smarter than the average bear...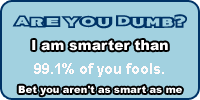 Am-I-Dumb.com -
Dumb Test
It's an old coping mechanism of mine to fall back on my intelligence when I'm feeling blue. This quiz helped a lot. So have the emails and phone calls from y'all. Thanks.
I got an email to the SoWk blog's account, so I'll have a new post on that blog up sometime this weekend. Be sure and check over there by Sunday.
Thanks, too, for bearin' with me during this temporary set back. Seems to be the season for it. Lots of us bloggers are havin' problems. Some bloggers have gone on hiatus or given it up to follow other pursuits. Some, like Scully, had their sites hacked. That really sucks! Babs RN is gone. MedicMarch is temporarily gone. Scalpel has switched to days, so he's not posting as often. Even the Docs at MDOD are slowin' down.
Y'all already know about the reason for Flo's absence. AD's been so busy at conferences he's been slowing down. But I did talk to him recently and he's promisin' a new Star of Life chapter "soon" as well as that collaboration he mentioned a while back with his "BlogFather". I can't wait for that one.
I'm sort of ambivalent about my own slump and y'all's reaction to it. On the one hand, I hope you're too busy with school, work and holiday prep that you hardly notice my lack of writing. On the other hand, I worry that you WON'T notice my absence from the blogosphere because my scribblings are just that, insignificant. Okay, enough pity and insecurity. I promise, you don't have to reassure me of your admiration and attention. That's what the site meter is for. Please, don't feel obligated. Really. I am NOT that needy. If I was truly that insecure, I wouldn't have started this blog in the first place, now would I?
SO bear with a little longer and I'll be back to my usual snark and ranting.